Yumni Haziqah, from Faculty of Science, completed her Masters in Biology by Research in 2021. Her research project focuses on agarwood formation in Aquilaria beccariana and Aquilaria microcarpa in response to inoculation of newly isolated fungi from Brunei Darussalam under the supervision of Dr. Pooja Shivanand and Dr. Faizah Hj Metali. This project collaborated with the Forestry Department, Ministry of Primary Resources and Tourism and was funded by UBD IBER. Dr Hussein Hj Taha, Nur Bazilah Afifah Matussin (Research Assistant), Abdul Zul'Adly Hj Mohaimin and Ak Abdul Muizz Al-Azim Pg Hj Abdul Halim (both Field Assistants) were among other researchers involved in this project.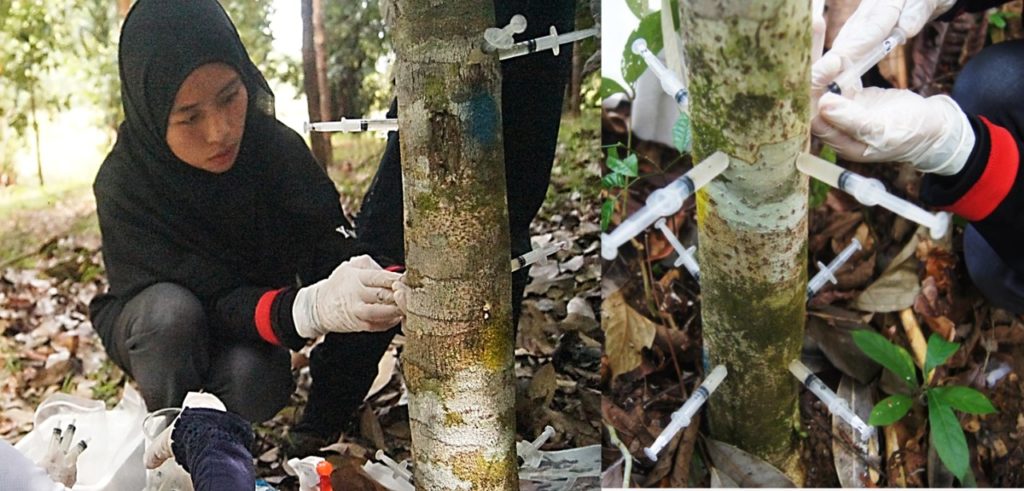 She decided to take on this project because agarwood is understudied in Brunei and often took a long time to form naturally (approximately 20-50 years). This is one of the earliest research conducted in Brunei to investigate the true potential of our local Aquilaria trees in producing high-quality agarwood in response to being artificially inoculated with locally isolated fungal strains from various habitats in Brunei.
Her research aims to artificially induce agarwood formation in local Aquilaria sp. using 8 different induction treatments consisting of 6 fungal inoculants and 2 control treatments in designated time intervals of 1-month, 3-months, 6-months and 9-months. Her project has successfully induced agarwood formation in both local species of Aquilaria in Brunei (A. beccariana and A. microcarpa) as early as 1-month post-inoculation with locally formulated fungal strains. The agarwood formation was evaluated significantly larger with a longer incubation period. The collected agarwood extracts demonstrated the positive presence of aromatic compounds associated with agarwood.
To read more, the published article can be accessed here (DOI:10.13057/biodiv/d221002 or smujo.id/biodiv/article/view/8450)
>> Check out our post on Instagram: https://www.instagram.com/p/CcmIRSfhH_a/<<