The 4th Herbal Research Webinar Series 2022 was organized and hosted by Universiti Brunei Darussalam (UBD)'s Herbal Research Group online via Zoom on the 13th April 2022. Associate Professor Dr. Muhd Dasuki Sul'ain of School of Health Sciences, Universiti Sains Malaysia (USM) was invited as the guest speaker for the webinar where he presented on the topic "Cajuput Oil: Therapeutic Properties and Antidepressant Effects in Animal Model". The event was attended by a total of 44 participants, including staff, students and alumni from different faculties and departments of UBD, USM as well as Suri Seri Begawan Hospital of Kuala Belait.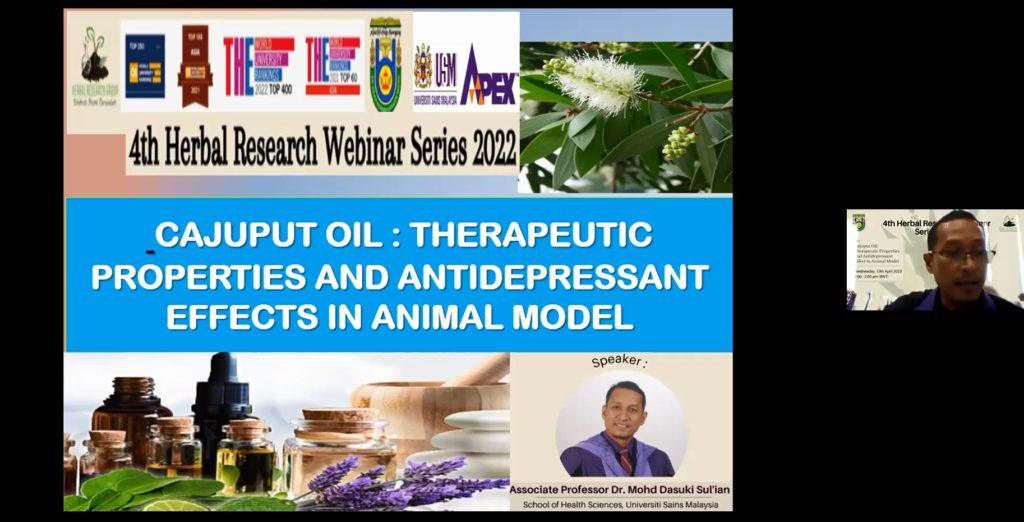 To begin, Prof. Dasuki gave a general introduction on essential oils and their use in aromatherapy. He highlighted the difference between essential oils and vegetable oils where the former are usually of lower molecular weight and are more volatile. According to Prof. Dasuki, essential oils, which mainly constitute secondary metabolites, can be extracted from various plant parts including roots, stems, twigs, barks, leaves, flowers and fruits. He described the essential oil obtained from the leaves of Melaleuca cajuputi subsp. cajuputi (also known as 'gelam', white wood, 'kayu putih', weeping tea tree or weeping paperback) as a pale yellowish liquid that has been shown to be non-toxic and non-sensitizing although high doses may lead to skin irritation. Nevertheless, Melaleuca cajuputi essential oil (MCEO) was remarked to have useful applications in culinary and cosmetic industries where it is typically incorporated in the form of candies, aromatherapy oils, soap, baby oil, hair wash, and topical balms such as the well-known Tiger Balm that is widely available in the market.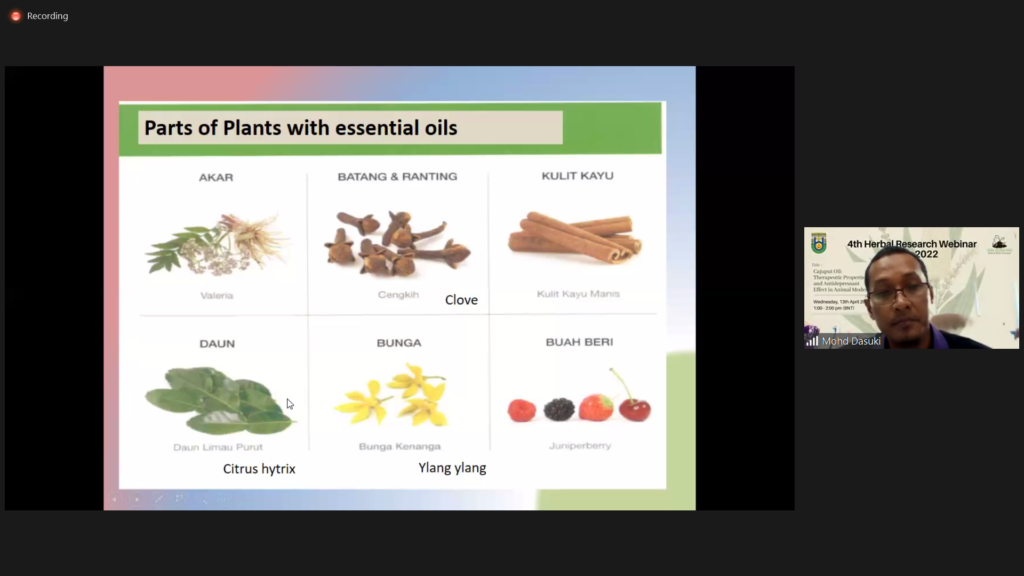 In his lecture, Prof Dasuki mentioned that all parts of Melaleuca cajuputi possess a broad range of pharmacological properties and they have a long history of use in traditional medicines for the treatment of various ailments including cholera, muscle and joint discomfort, diarrhoea, scabies and intestinal worms. The highly aromatic leaves, specifically, has been used as a flavouring agent as well as a remedy for influenza, cough, respiratory infections, stomachaches, internal and digestive disorders. Meanwhile, MCEO, which is renowned for its warm, spicy and pain-relieving, has therapeutic uses for relieving fevers, neuralgia, muscle joint paints, microbial infections, intestinal worms, cold & congestion, perspiration and blood circulation. Scientific evidence have demonstrated its beneficial use as an analgesic, antiseptic, antimicrobial, anti-neurogenic, anti-spasmodic and repellent.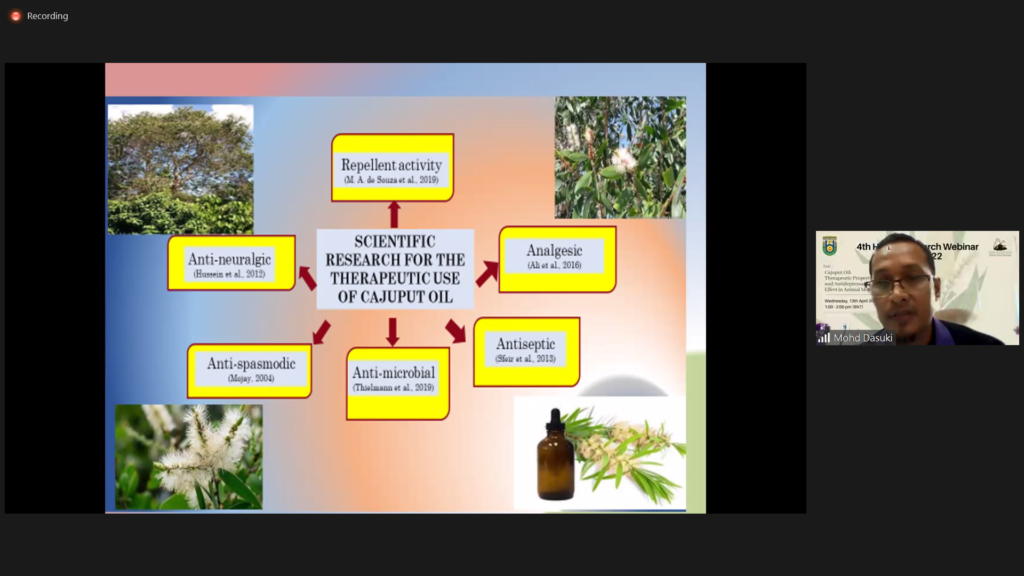 Moving on to the topic of depression, Prof. Dasuki explained the lack of effective treatments for depression which is increasingly prevalent worldwide especially in females. According to WHO, depression can be defined as sadness associated with low energy, sleep disturbances and the feeling of worthlessness, caused by alteration in the hypothalamic-pituitary-adrenal (HPA) axis, elevation of inflammatory mediators and changes in the monoamine pathway.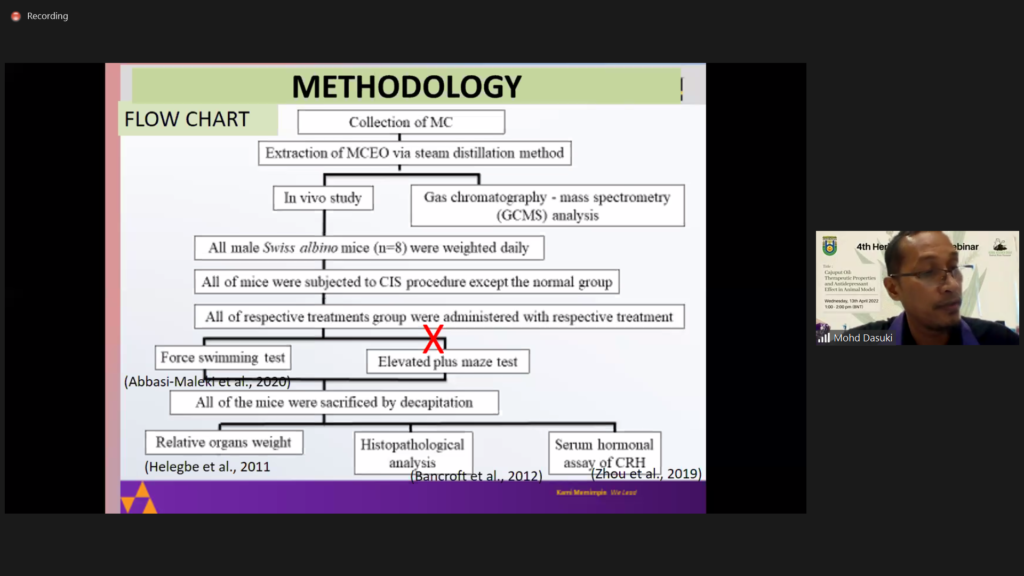 In his study, Prof. Dasuki and his team evaluated the phytochemical content as well as the anti-depressant effects of the MCEO by adopting the forced swimming test (FST) in mice that have been subjected to chronic immobilization stress (CIS) for depression induction. Their findings showed that 43.61% of the bioactive compounds detected in MCEO (mostly terpenoids) had reported antidepressant properties whereby α-pinene was the most abundant (22.38%). The in vivo investigation showed that MCEO was able to improve the mobility time of the mice submerged in water in a dose-dependent manner and that the antidepressant effect was evident even at the lowest dosage of 1% MCEO. With this, MCEO was demonstrated to have higher potency compared to lavender and bergamot essential oils which only exerted anti-depressant effect at 2.5% concentration. Prof Dasuki and his team also studied the effects of MCEO on the hippocampus by evaluating changes in the granular and pyramidal cell layer (GCL and PCL). The results showed that 7.5% MCEO significantly increased cell surface area in both GCL and PCL which suggested that MCEO could restore nerve cell atrophy via upregulation of the glucocorticoid receptor (GR) and brain-derived neurotrophic factor (BDNF) genes and proteins. The serum hormonal assay conducted by Prof. Dasuki's team also showed that 1% MCEO reduced corticotrophin releasing hormone (CRH) levels in dose dependent manner potentially via regulation of GR expression in the brain and reactive oxygen species production. No significant difference in the relative organ weight of the treated and untreated group was also reported which signified the non-toxicity of MCEO.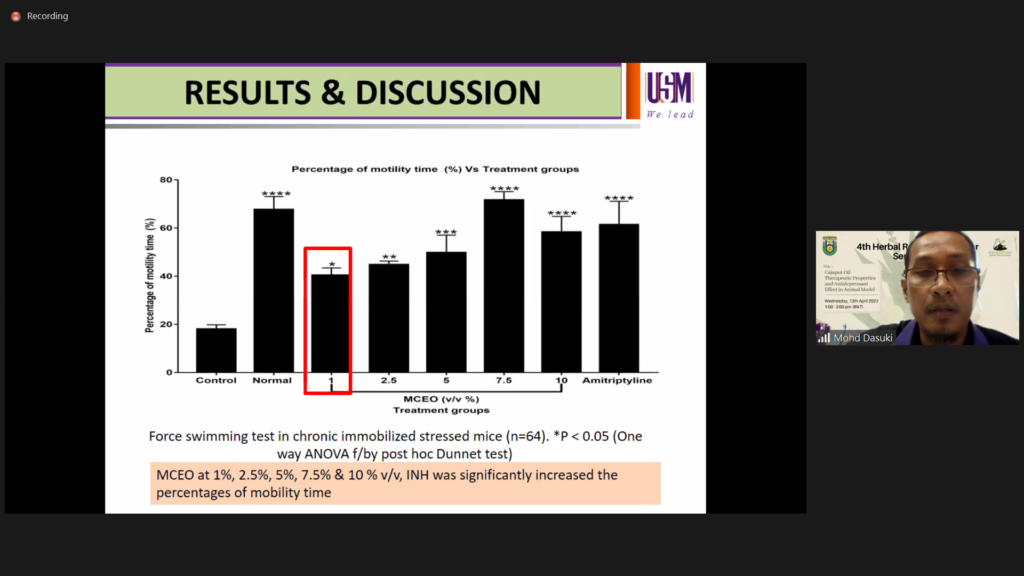 Following the conclusion of Prof. Dasuki's lecture, a group photo was taken with the invited guest speaker, organisers and participants. Before ending the webinar, Prof. Dasuki provided his kind response to several intriguing questions raised by the audience in a casual question-and-answer session.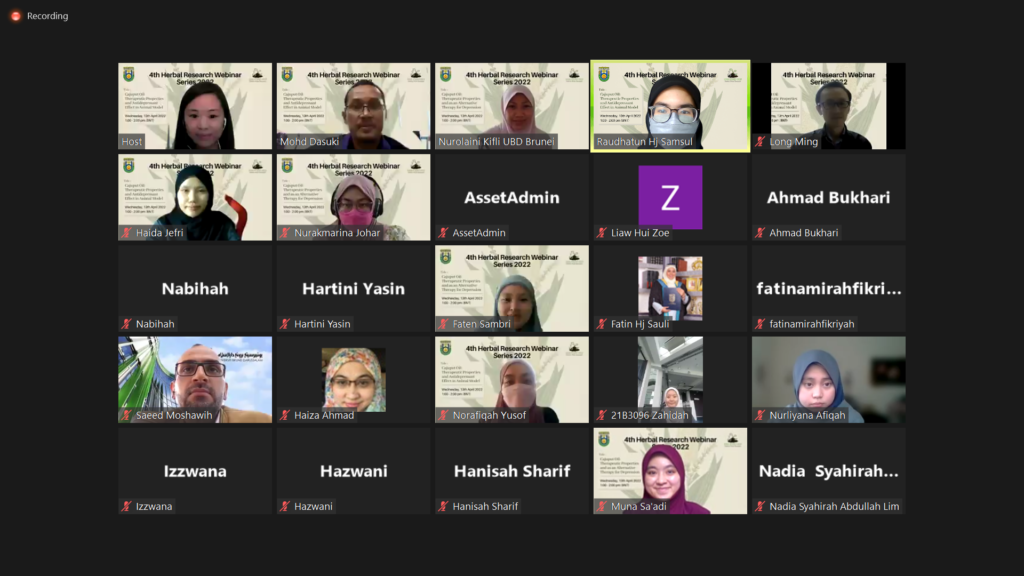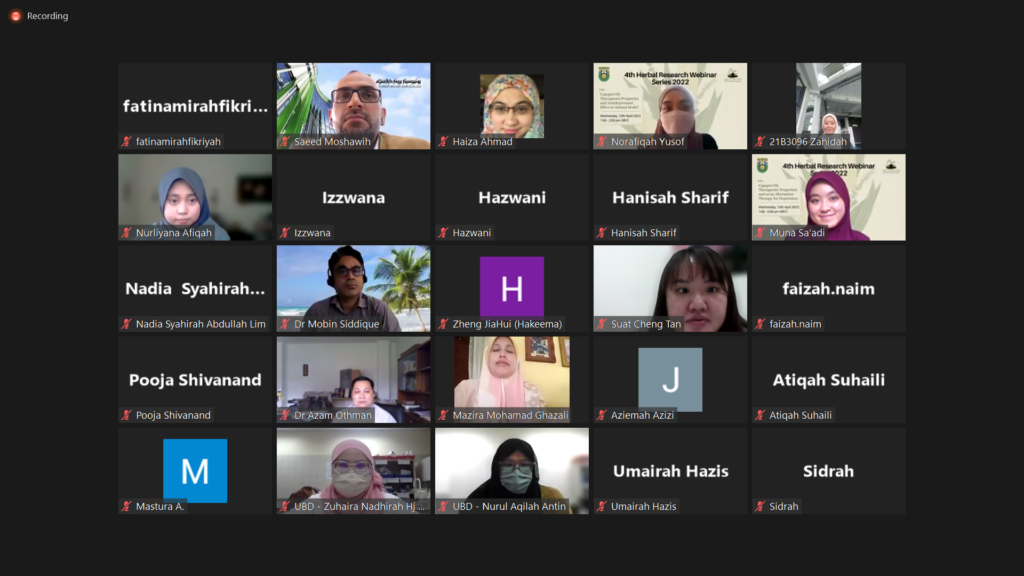 For the video recording of the 4th Herbal Research Webinar Series 2022, please see below: