On the 16th February 2022, Universiti Brunei Darussalam (UBD)'s Herbal Research Group organized and hosted their 2nd Herbal Research Webinar Series 2022 which was held online via zoom. Assistant Professor Dr. Pooja Shivanand, the programme leader of the Environment and Life Sciences programme, Faculty of Science, UBD, was invited as the guest speaker for the webinar where she presented a fascinating lecture on "Agarwood – Mystery, Make & Market". A total of 70 participants attended the webinar, including staff and students from various departments and faculties of UBD, Universiti Teknologi Brunei (UTB), Institute of Brunei Technical Education (IBTE) and Suri Seri Begawan Hospital.
Dr. Pooja began her talk by sharing her ideas and thoughts on agarwood and how it led her to pursue her research on the fragrant dark resinous wood.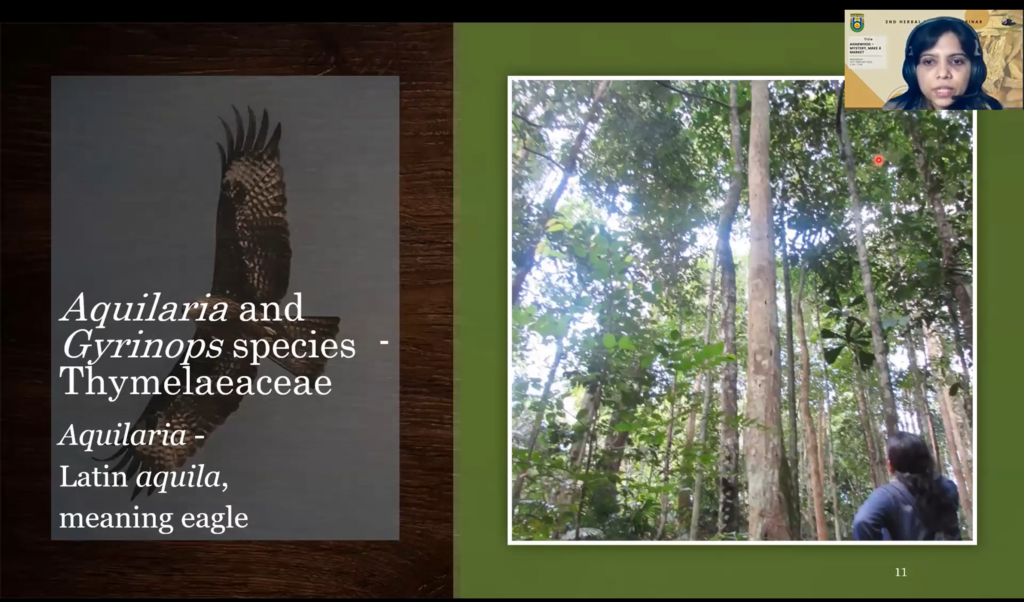 As the first agenda of her talk, Dr. Pooja expounded the "Mystery of Agarwood". She described agarwood as a dark resinous wood that gives off a pleasant scent when lit up, which explains its regular uses in incense, perfume and also traditional medicine. She revealed that, although agarwood goes by various different names, most of them share a common meaning – "a gift from above". She shared that agarwood is also often referred to as "liquid gold" due to it being a high value commodity. However, as a result of rampant logging and trading, agarwood trees are now listed in Convention of International Trade in Endangered Species of wild flora and fauna (CITES) and the International Union for Conservation of Nature (IUCN) Red List as there are only 20% or less natural agarwood trees remaining.
According to Dr. Pooja, agarwood is largely produced from the Aquilaria and Gyrinops tree species of the Thymelaeceae family. She pointed out that the species of agarwood tree that can be found in Brunei Darussalam are mainly Aquilaria microcarpa and Aquilaria beccariana, both of which can be differentiated by the size of their leaves. For reference, she also informed that these species have been catalogued in the Brunei National Herbarium.
Following that, Dr. Pooja explained that the agarwood is produced or formed as a result of the tree's intricately orchestrated stress response mechanism to injuries caused by external damage. As a form of defence mechanism against injuries, the tree secretes secondary metabolites that form the resin, as it develops compartments of decay by creating a boundary to stop infection from spreading and to prevent further loss of normal tissues. The aromatic resin, which takes about 30-70 years to naturally produce, can be found in the heartwood or centre of the tree that is brown in colour. The agarwood from Brunei typically gives off a phenolic scent. Nevertheless, the aroma produced is dependent on the species, infection, defence mechanism and composition of the tree.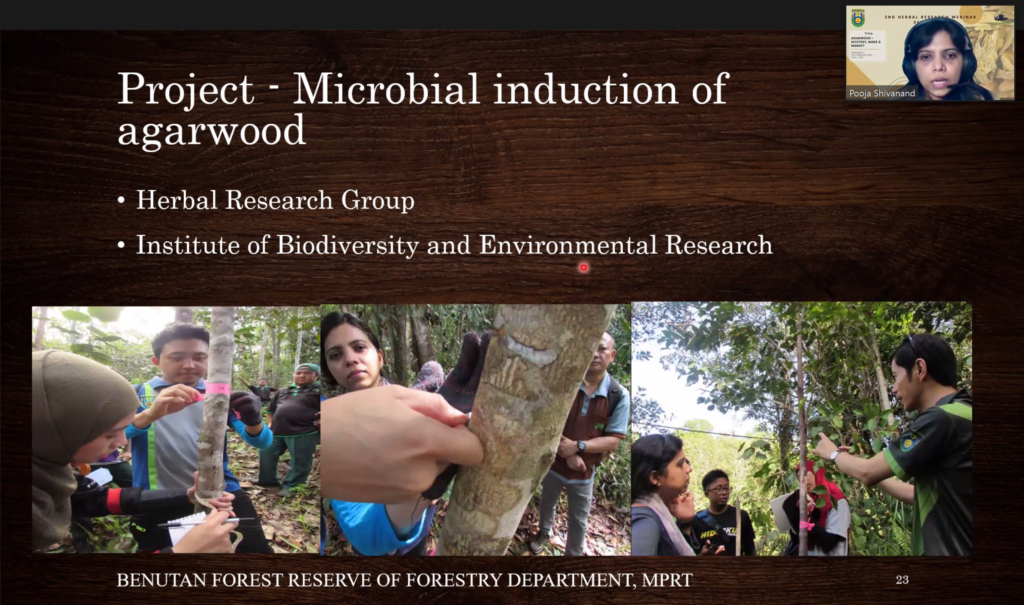 Moving on to her second agenda, Dr Pooja further elaborated on the commercial production and manufacture of agarwood. Due to its economic importance and high demand which led to the depletion of natural agarwood, alternative approaches to artificially induce agarwood are emerging, including physical damage, biological infection, and chemical induction. The resinous wood that developed from the artificial inductions are either traded as wood chips or oil extracts.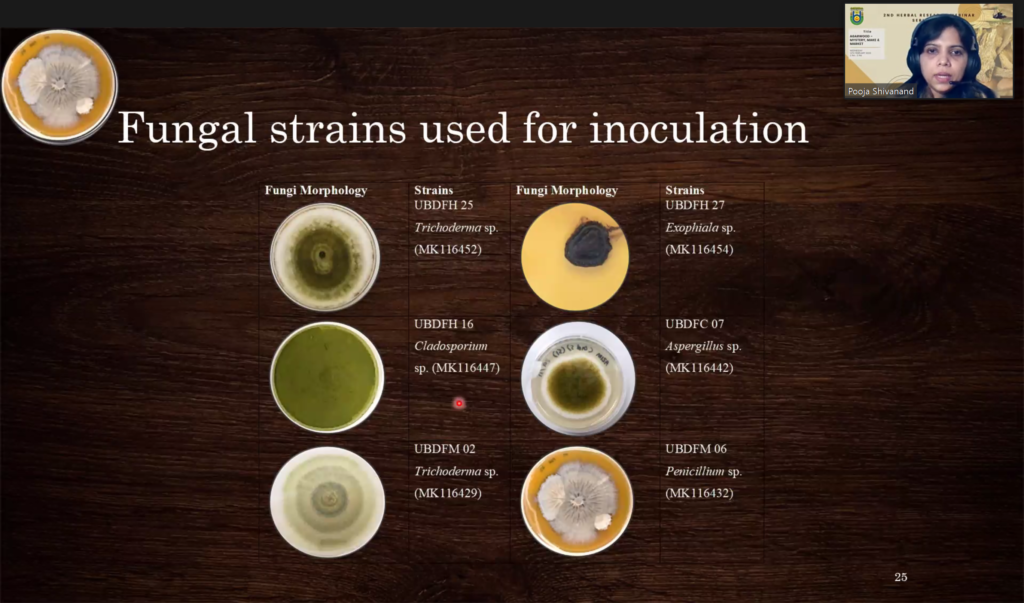 As part of her study entitled "Microbial Induction of Agarwood Aquilaria Trees in Brunei", Dr. Pooja shared that her research group investigated the mechanism of agarwood formation in response to biological attacks. In the study, six local fungal strains including Aspergillus, Penicillium, Trichoderma and Cladosprorium sourced from the mangrove ecosystem and tropical forest of Pulau Selirong were isolated and inoculated into selected Aquilaria trees. Her team also investigated the effects of physical attack versus fungal attack on the trees to which they found that the discoloration area of the trees with injected fungi is larger compared to that of the control which was physically damaged without fungal inoculation. The study was conducted at the Benutan Forest Reserve and funded by UBD Herbal Research Group and Institute of Biodiversity and Environmental Research (IBER). Findings from their study were published in the Biodiversitas journal (https://smujo.id/biodiv/article/view/8450/5172).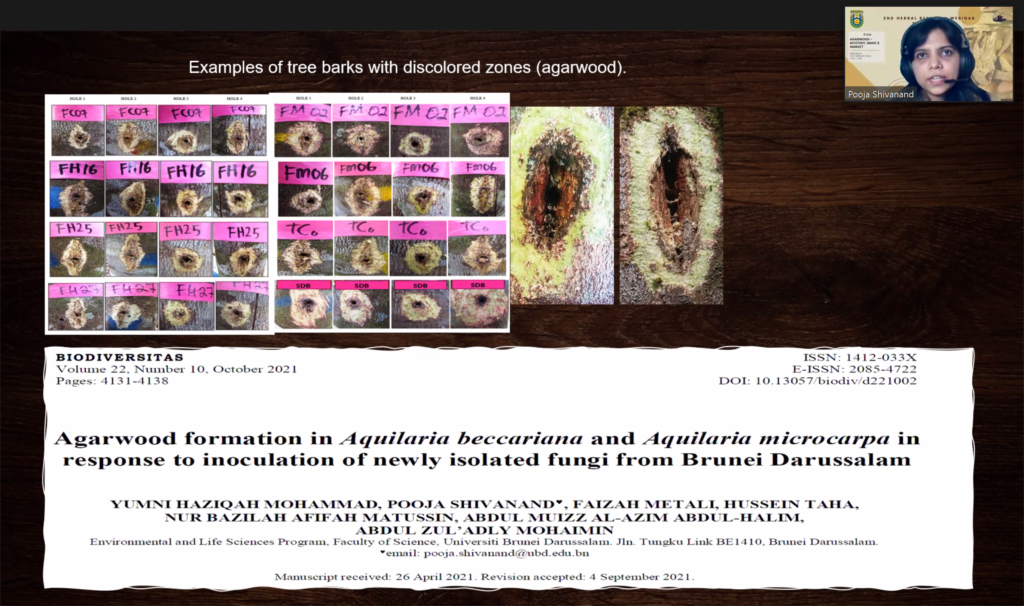 Touching on the last agenda of her talk, Dr Pooja shared details on the history of the trade, import and export of agarwood. During the research, Dr. Pooja and her team had the chance to conduct interviews with local businesses in Brunei Darussalam that sells agarwood such as Ihsan Oud and Oud Al Aswad, where they shared their knowledge on the sales and trades of agarwood oils and wood chips in Brunei.
The webinar was then followed by a question and answer session where Dr. Pooja shared her views in response to the questions submitted by the audience. To end the webinar, a brief photo session was taken with the guest speaker, organisers, and the attended participants.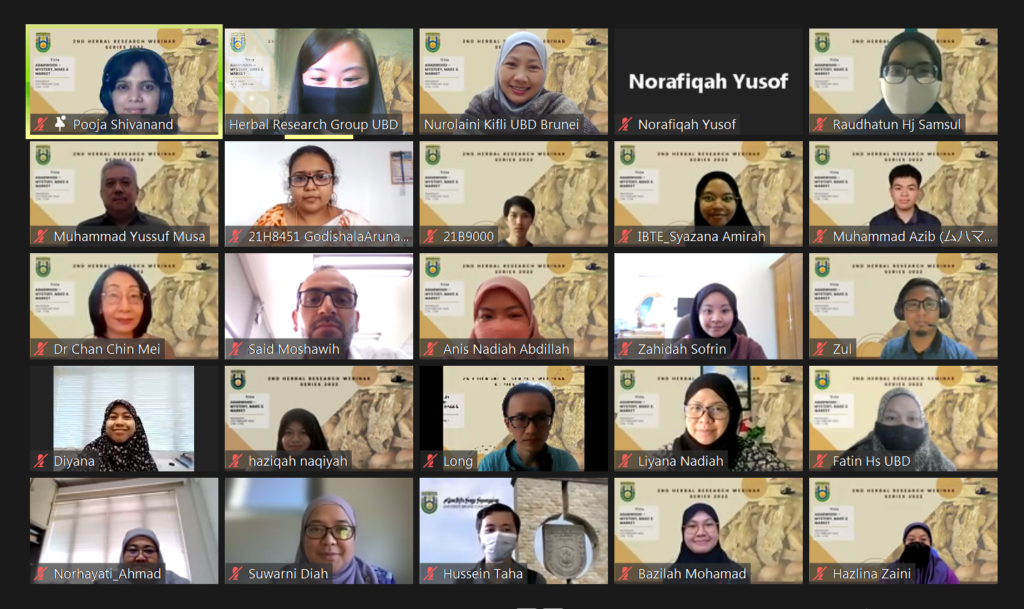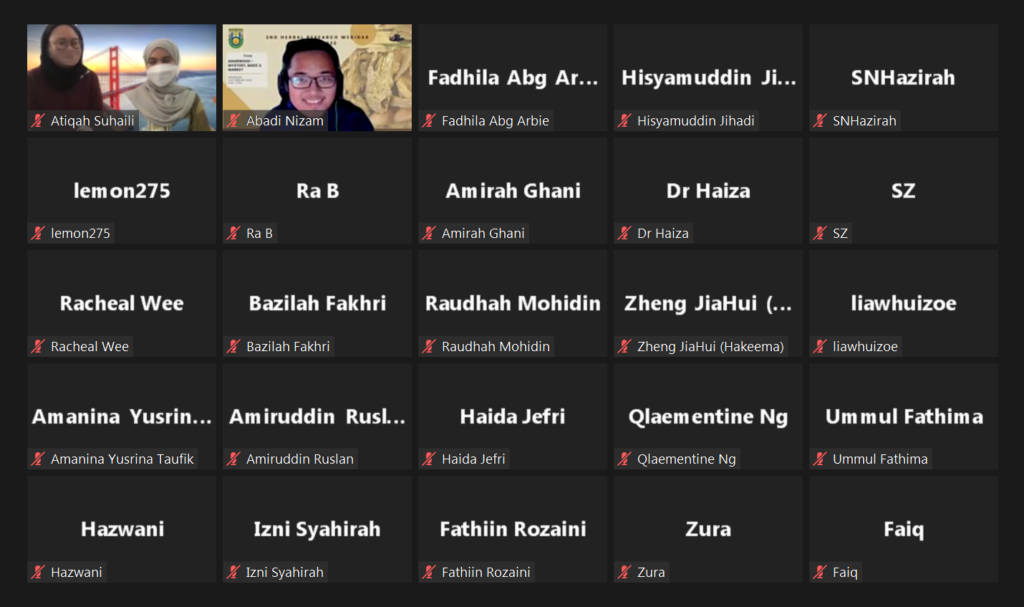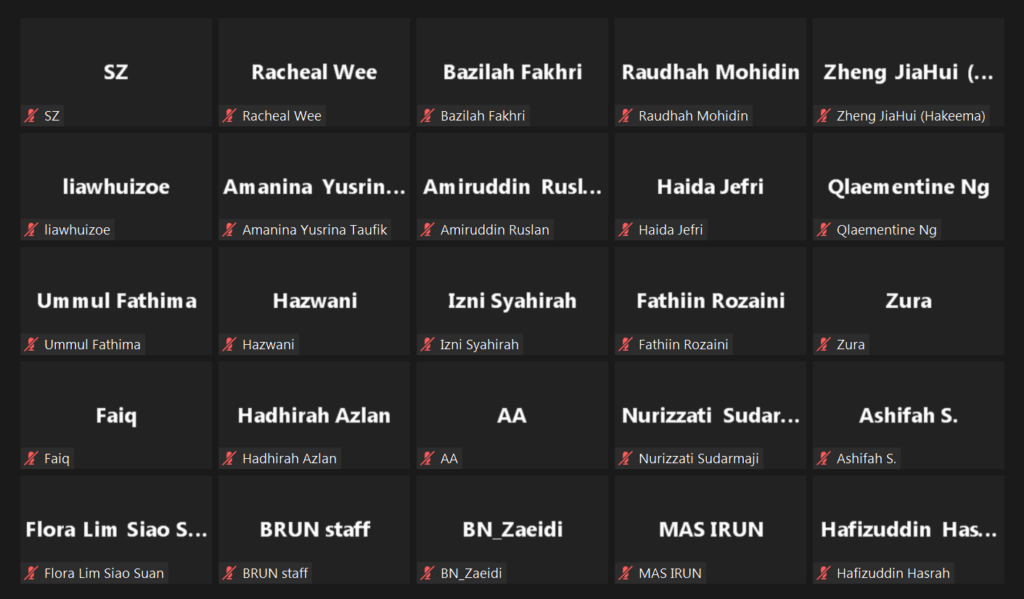 For the video recording of the 2nd Herbal Research Webinar Series 2022, please see below: