The Herbal Research Group hosted Universiti Brunei Darussalam (UBD)'s Sixth Herbal Research Seminar Series 2021 online via Zoom on the 15th December 2021. Associate Professor Dr. Md. Azman bin PKM Seeni Mohamed from the Advance Medical and Dental Institute, Universiti Sains Malaysia (USM), was invited to present a talk on "Development of New Cancer Chemopreventive Agent Using Malaysia Plant". A total of 52 participants including staff and students from various departments and faculties of UBD, USM, Universiti Teknologi Brunei (UTB), Ministry of Health (MOH), Suri Seri Begawan Hospital, government services, Universitas Islam Sultan Sharif Ali (UNISSA), and International Islamic University Malaysia (IIUM), Kuantan, Malaysia attended the virtual seminar series.
To begin, Prof. Azman showcased various types of cancers and explained the progression of carcinogenesis. He also elaborated on the major causes of cancer which he states include poor diet, lifestyle and cosmetic products that contain carcinogenic ingredients e.g. nano-sized particles that can potentially bind to and alter DNA expression and eventually cause cancers. Following that, Prof. Azman highlighted some worrisome statistics for cancer incidences and death rates caused by cancers. He then proceeded to describe the different modes of treatment for cancer. With that, he urged the need for innovative strategies to be developed for chemoprevention.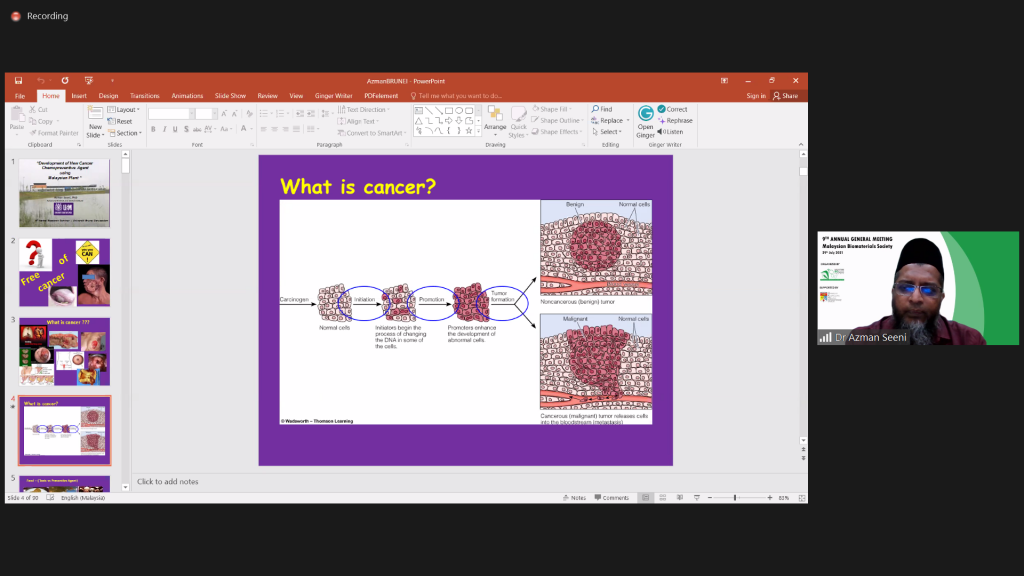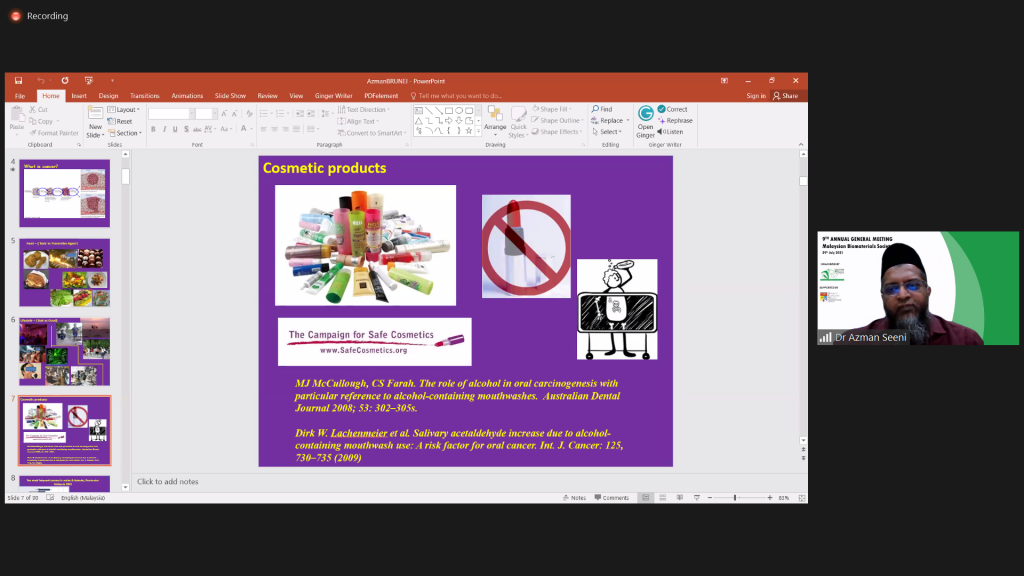 As part of his research projects, Prof Azman shared that his team has investigated the anti-cancer activities of Streblus asper (Malay: "Kesinai"), which is a popular bonsai plant, the waste products (husk and straw) from paddy, the peel of Nephelium lappaceum (rambutan) and Cocos nucifera (coconut) and the leaves of Peltophorum pterocarpum (Copperpod/Yellowflame tree) and Syzygium aqueum (Malay: "Jambu Air").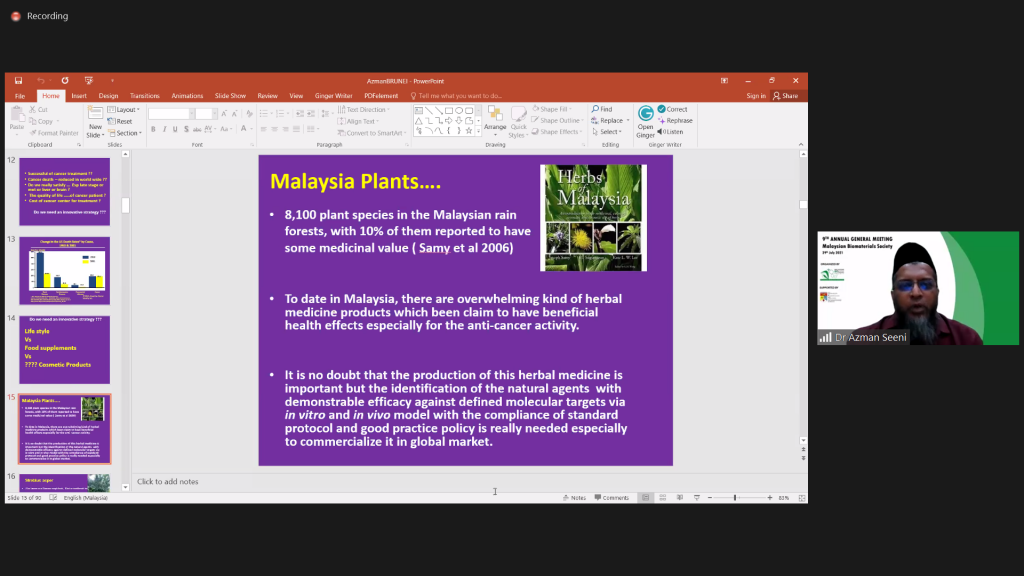 From his findings, Prof Azman revealed that the leaf and root extract of S. asper demonstrated inhibitory and anti-proliferative activities on various cancer cell lines including osteosarcoma, tongue carcinoma and cervical cancer. He added that the root extract could induce apoptosis and cell cycle arrest in HeLa cells at the G2/M phase via the caspase family and MAPK signaling pathways. Furthermore, he mentioned that treatment with the root extract has also led to inhibition of cell invasion and metastasis in HeLa cells. Based on in vivo studies, Prof. Azman shared that tongue cancer was reduced in rats subjected to a 16-week treatment with the extract as drinking water at both low and high doses. Furthermore, he emphasized that tongue carcinogenesis was also prevented/suppressed in rats supplemented with the extract for two weeks prior to and subsequently after cancer induction. His study also showed that extract was non-genotoxic and non-cytotoxic towards normal kidney, liver and skin fibroblast cells and contained minute or non-detectable traces of heavy metal. In addition, Prof Azman explained that the extract was also able to reduce cervical tumor size in a xenograft model. As a result, product prototypes were developed for the extract whereby it was formulated into a mouthwash (patented) and ladies hygiene product which were well received and have garnered several awards.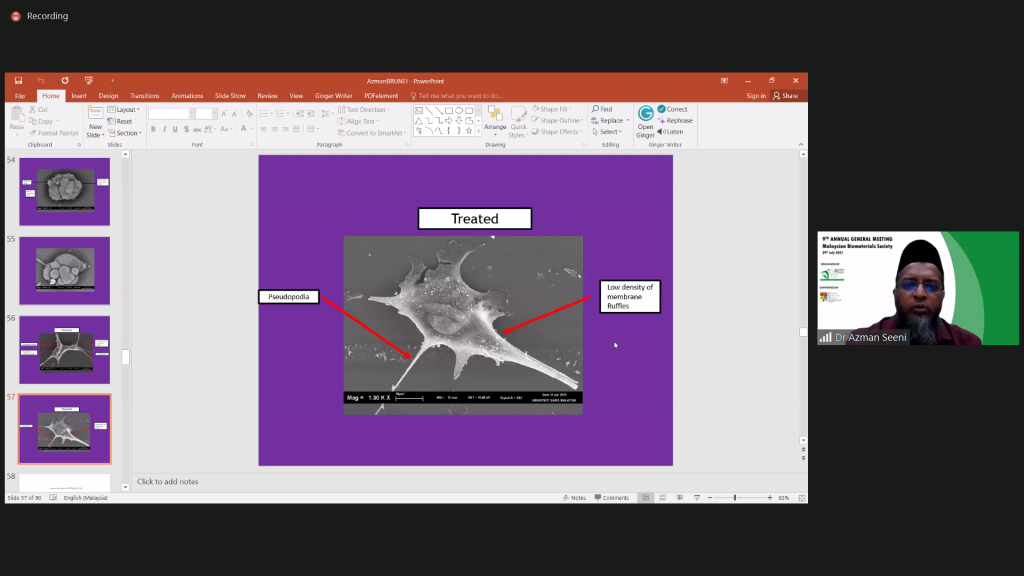 With regards to paddy husk and straw, Dr Azman shared that positive results were also recorded whereby both paddy husk and straw extract have significantly reduced the cell viability of prostate cancer cells (DU145) via the caspase signaling apoptotic pathway while no sign of toxicity was noted on the normal skin fibroblast cells (L929). He showed that the extracts of the paddy husk, paddy straw and S. asper, was also able to maintain blood pressure and resume normal prostate gland morphology in spontaneous hypotensive rats (SHR) following 16 to 20 weeks of exposure.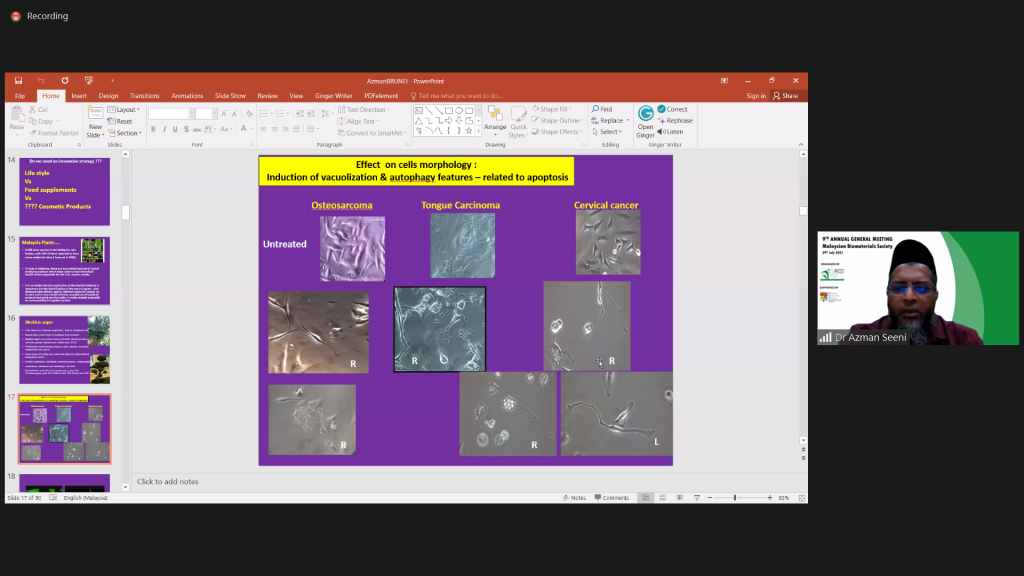 Finally, Dr Azman demonstrated that the extracts of the N. lappaceum peel, C. nucifera peel, P. pterocarpum leaves and S. aqueum leaves have all shown inhibitory effects on the osteosarcoma cells (CRL-1543) via various apoptotic pathways with no signs of toxicity observed on the L929 and normal osteoblast cells (NHOst).
As a final remark, Dr Azman shared that, in addition to chemopreventive studies, his work also includes studies on novel biomarker for prostate cancer, diagnostic tools for prostate disease and anti-cancer drug delivery using biomaterial. To end the seminar, group photos of the participants were taken followed by a fervent Q&A session.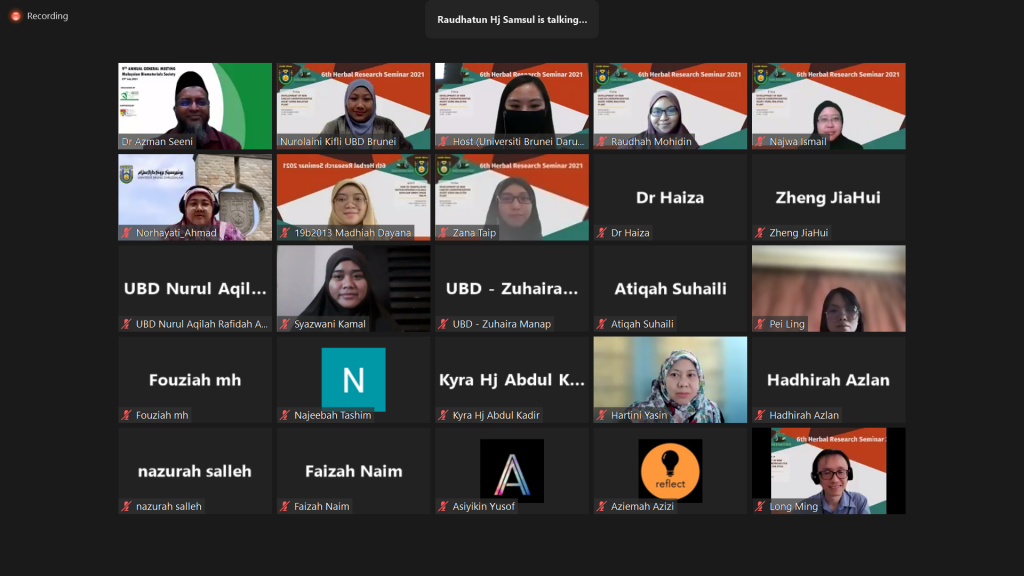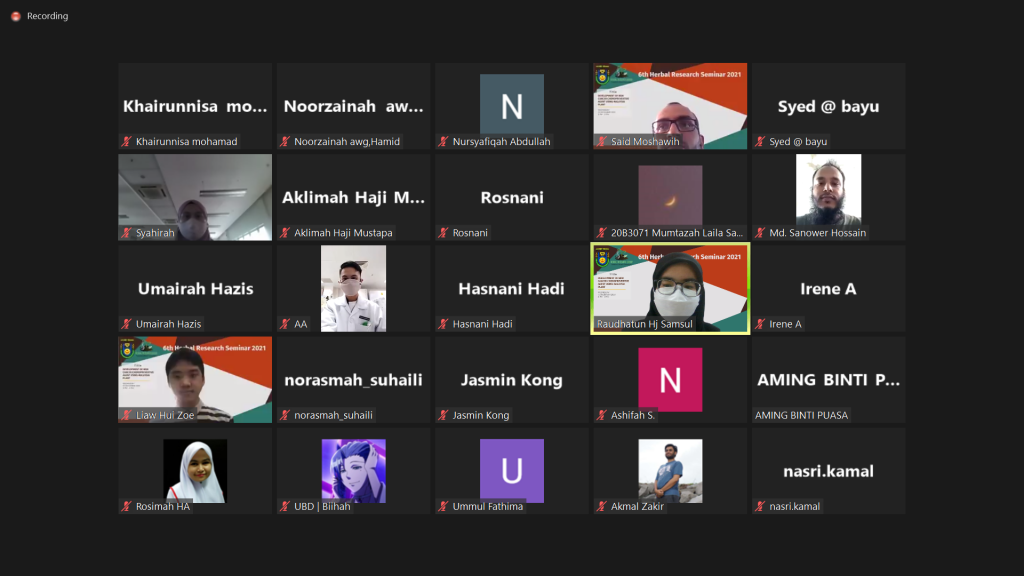 For the video recording of the 6th Herbal Research Seminar Series 2021, please see below: