The Herbal Research Group of Universiti Brunei Darussalam (UBD) hosted their 6th Herbal Research Webinar Series 2023, on 11th October 2023, online via Zoom. The guest speaker for the event was Dr Ahmad Fauzi, a veterinarian and PhD Candidate from the Faculty of Veterinary Medicine, Universiti Putra Malaysia. His research pursuits centre around herbal medicine and kidney diseases.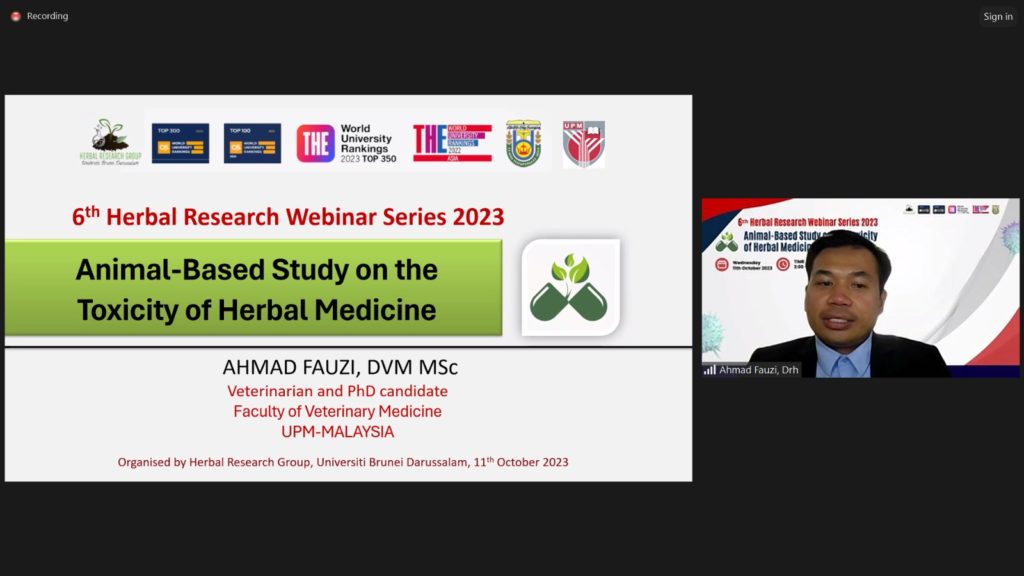 The event commenced with an introduction speech by our research assistant, Hjh Fathiin Najihah as the host and a welcoming remark by the leader of Herbal Research Group, Dk Dr Nurolaini. The webinar started with a very informative presentation by Dr Ahmad Fauzi, followed by a Group Photo Session and Q and A Session. The webinar was attended by 46 participants including staff, students from various faculties and departments of UBD, Institute of Brunei Technical Education (IBTE), Professors and Clinicians.
Dr Ahmad Fauzi strategized his presentation to four main topics which were selection of an animal model, animal handling, animal anaesthesia & euthanasia and toxicity study. The first topic began by defining the 'animal model' which was 'An animal sufficiently like a human in its anatomy, physiology, or response to a particular drug or substance that it is used to study human physiology or disease, to test the safety and efficacy of substances including drugs and cosmetics, or to determine the underlying mechanisms of human biology'. Then, Dr Fauzi explained the selection of the animal model would be by following the economic and technical management point of view by asking a series of questions prior starting to the research.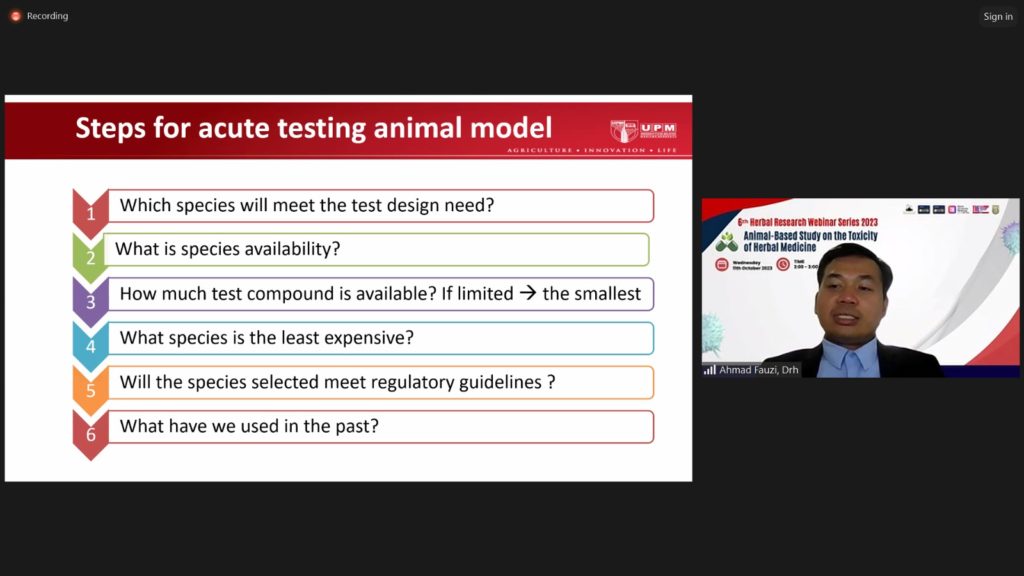 The common animal used for an experiment is rodent species, on which Dr Fauzi further shared the types of rodent strains, advantages and disadvantages of using rodents as animal-model in toxicology. Nevertheless, there are other species used for animal study which are rabbits, guinea pigs and dogs.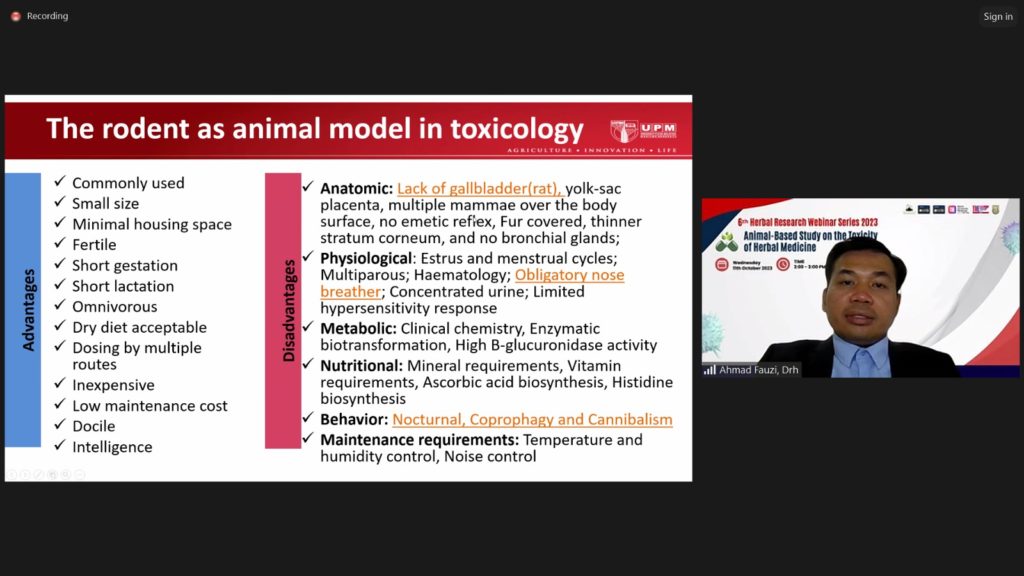 The second topic of the presentation was animal handling as our guest speaker shared the steps for handling and doing oral gavage. The third part of the presentation was animal anaesthesia and euthanasia to which Dr Fauzi explained there were Primary Standards, Benchmarking International Guidance and Legislation to adhere to when handling animal models. These guidelines should be followed for appropriate and ethical handling of animal models. Our guest speaker also shared the preparation of anaesthesia and the injection site. Finally, the last topic was toxicity study whereby Dr Fauzi shared the outcomes of the toxicity analysis of Morus Alba L. leaves, collaborative research between UBD and UPM. However, this part of the presentation was removed from the video recording because the data were not ready to be publicised yet as kindly requested by our guest speaker.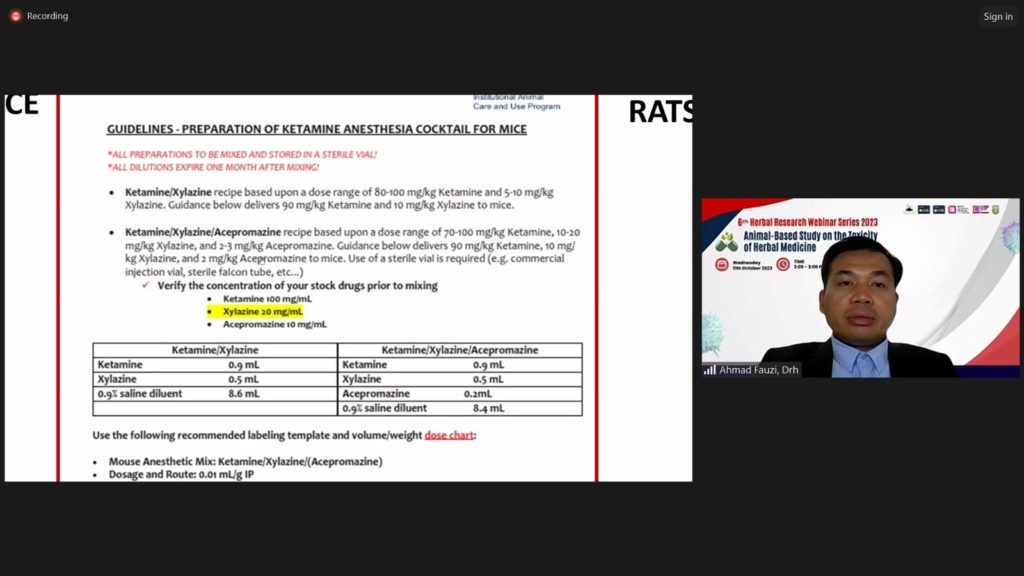 The webinar was followed by a Q and A session in which our participants were proactively asking and seeking advice from Dr Ahamd Fauzi. One of the questions asked by Liaw Hui Zoe was if the usage of Zebrafish as an animal model was part of the OECD guideline and our guest speaker explained that it was indeed published as part of the guideline.
As usual, the closing of the webinar series was complemented with a virtual group photo with the participants. More details of the presentation can be accessed through the video presentation posted on our YouTube page & website (https://youtu.be/PGBkJ0KcgVw?si=kziU3JNQyyNxW1UZ)