The 5th Herbal Research Webinar Series 2022 was organised and hosted by Universiti Brunei Darussalam (UBD)'s Herbal Research Group online via Zoom on the 8th June 2022. Associate Professor Rajaraman Eri of School of Health Sciences, College of Health and Medicine, University of Tasmania was invited as a guest speaker for the webinar where he presented on the topic "Sea Weeds or Sea Wonders: Anti-Inflammatory Activity of Fucoidan Extracts – Lessons From In Vitro, In Vivo and Human Clinical Studies". The event was attended by a total of 31 participants, including staff, students, alumni from different faculties and departments of UBD, IBTE as well as Universitas Semarang, Indonesia.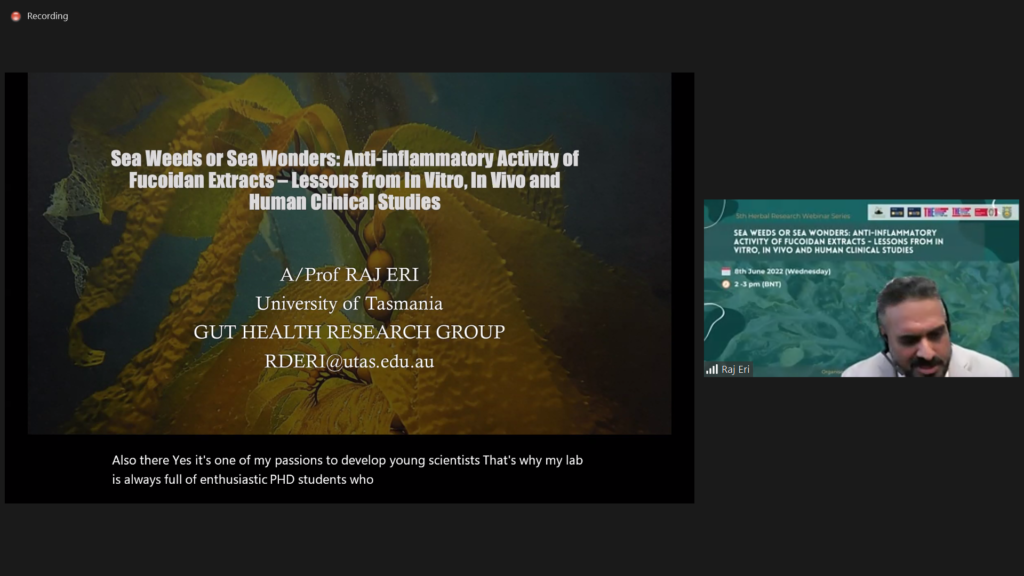 Prof. Rajaraman began his presentation by sharing a little bit of his background as a gut immunologist and how a certain seaweed extracting company in Australia called Marinova encouraged him to pursue his research on the biological effects of brown seaweeds with respect to the gut health. He then gave a brief introduction to the different kind of seaweeds and their respective constituents where he highlighted the presence of several energy rich compounds that possess various biological activities including anticancer, antiviral, antioxidant, cardiovascular protection, anti-inflammatory and anticoagulant activities in brown seaweed. Previously, his research team discovered that the higher the sulfate group count in a plant, the higher the therapeutic potential and this result have led them to hypothesise that fucopyranoside and natural sulfates present in the cell walls of brown seaweed are the active components of the marine plant that are responsible for its medicinal values. He proceeded to describe the pathogenesis of inflammatory bowel diseases (IBD) and the current treatment available which unfortunately are render ineffective to some people and comes with many adverse side effects.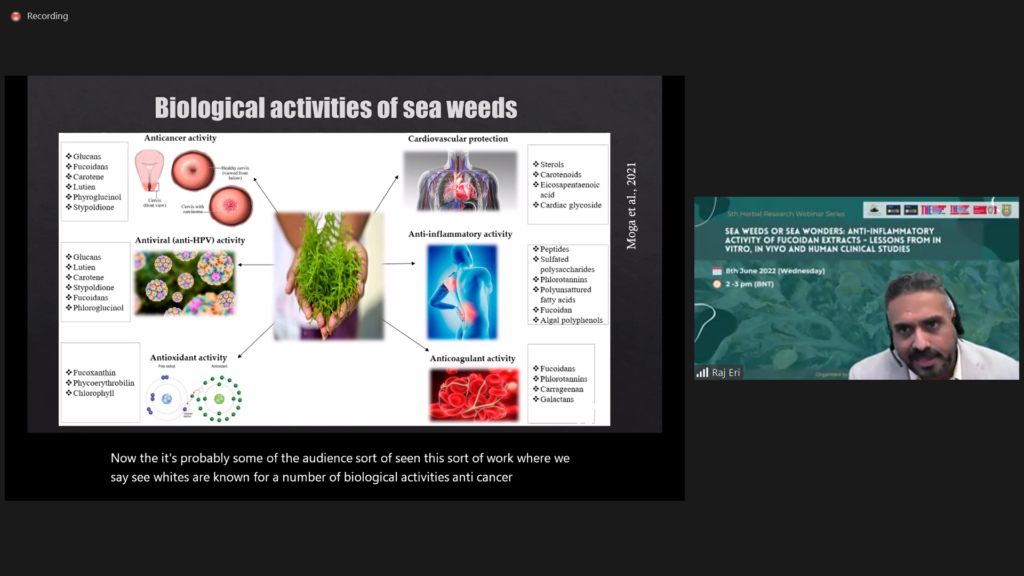 Prof. Rajaraman then shared some of their in vitro work where they pre-treated the human macrophages, THP-1 cells with fucoidan extracted from brown seaweed varieties and then induced inflammatory phenotypes in the cells. Their findings showed no toxicity effects of fucoidan extracts in THP-1 cells and the extracts were observed to downregulate both TNF-alpha and IL-1b which are the primary ulcerative colitis (UC) markers. As for in vivo investigation, they adopted the dextran sodium sulphate (DSS) assay in which results showed that fucoidan extracts ameliorate acute colitis and significantly reduced major pro-inflammatory cytokines. The promising findings led Prof. Rajaraman and his team to develop a model that resembles human chronic colitis. This work is still an ongoing project of his, nevertheless, he shared that two of the brown seaweed fractions demonstrated remarkable anti-inflammatory activity.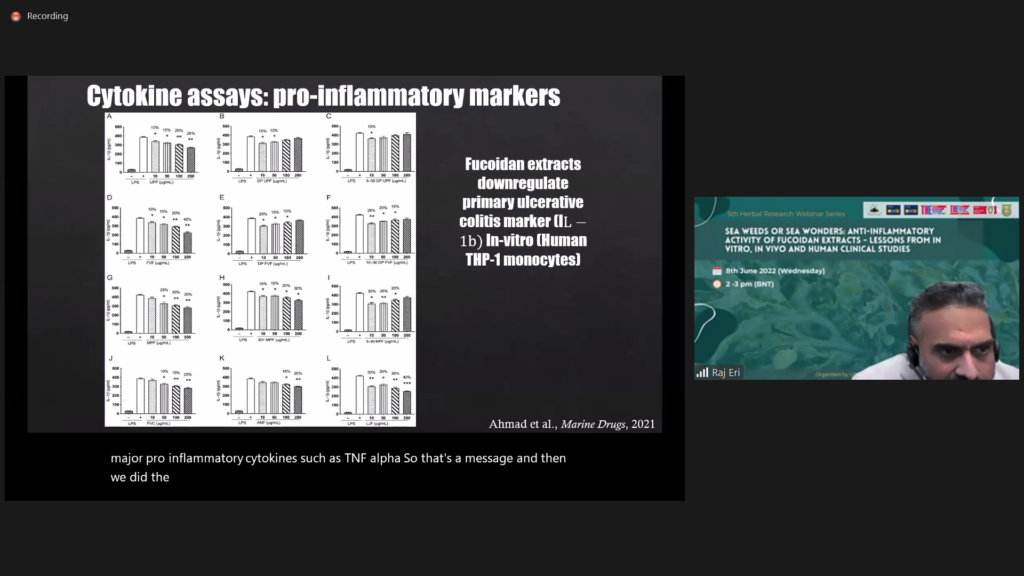 His research group have also conducted human clinical trials where they implemented PBMC cytokine assays, yeast gene deletion screening for pathways, DNA damage assays and micro-RNA expression after ingestion of fucoidan in an effort to understand the effects of fucoidan extracts in colitis. He then concluded that they have demonstrated that fucoidan extracts from brown seaweed possessed strong anti-inflammatory in colitis and DNA repair in cancer cells, inhibited pro-inflammatory cytokines, preserved tight-junction, showed the mode of action of fucoidan and very specific miRNA activation post fucoidan consumption.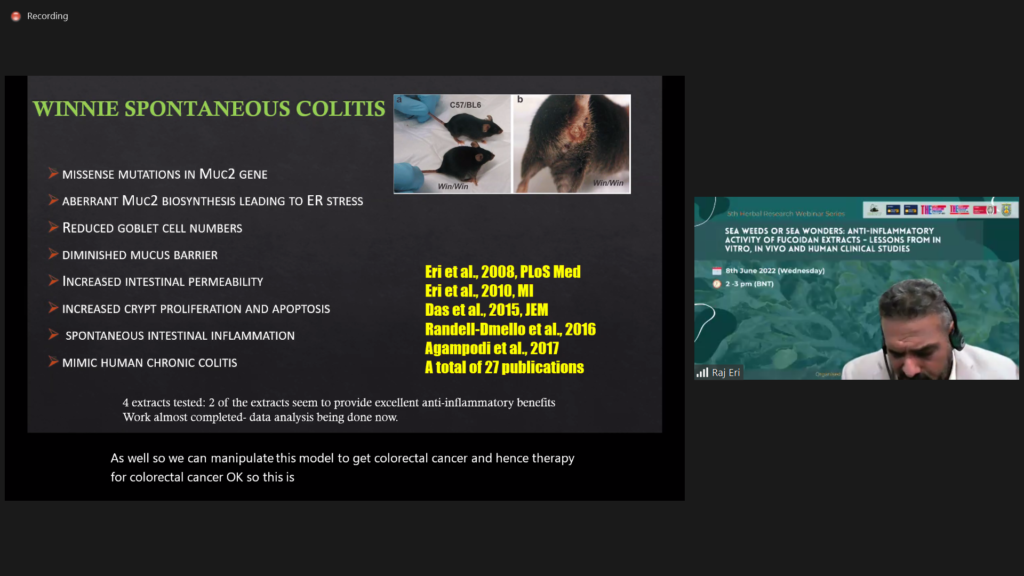 The webinar was then followed by a question and answer session with the participants attended. To end the webinar, a brief photo session was taken with the guest speaker, organisers, and the attended participants.