On the 18th January 2023, the 1st Herbal Research Webinar Series 2023 was hosted by the Herbal Research Group of Universiti Brunei Darussalam (UBD) via Zoom. Associate Professor Dr. Baharudin Ibrahim, from the Faculty of Pharmacy, Universiti Malaya, was invited as the guest speaker where he presented an intriguing talk on "Application of NMR-Based Metabolomics for the Phytochemical Analysis of Eurycoma longifolia Extracts and Their Effects on Rat Urinary and Plasma Metabolites". A total of 54 participants attended the virtual event including staffs, students and alumni from various faculties and departments of UBD, IBTE, Ministry of Health, Suri Seri Begawan Hospital, Universiti Malaysia Pahang, National Defence University of Malaysia, Universiti Kuala Lumpur – Royal College of Medicine Perak, Universiti Kebangsaan Malaysia and Semarang University (Indonesia).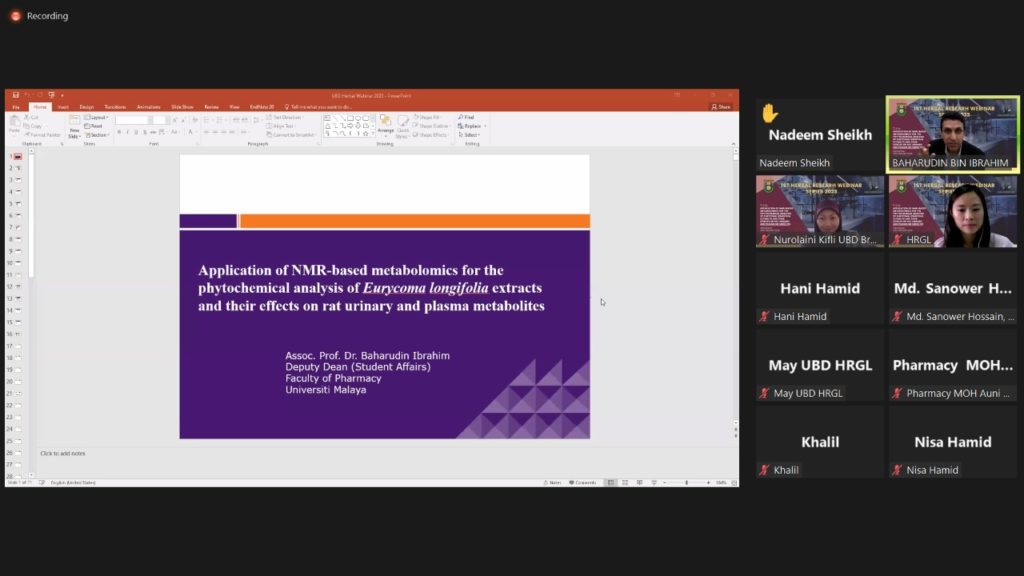 Dr. Baharudin commenced his talk with an introduction on Eurycoma longifolia, better known as 'Tongkat Ali' in Brunei and Malaysia, and its main phytochemical constituents – quassinoids – which are the main secondary metabolites and contributors to the bitter taste in plants of the same family (Simaroubaceae). He also revealed the reported therapeutic effects of the plant, which includes aphrodisiac and antibacterial characteristics as well as medicinal properties against dysentery, malaria, cancer and infertility. He proceeded with an explanation on metabolomics, its applications, technologies as well as analytical approaches.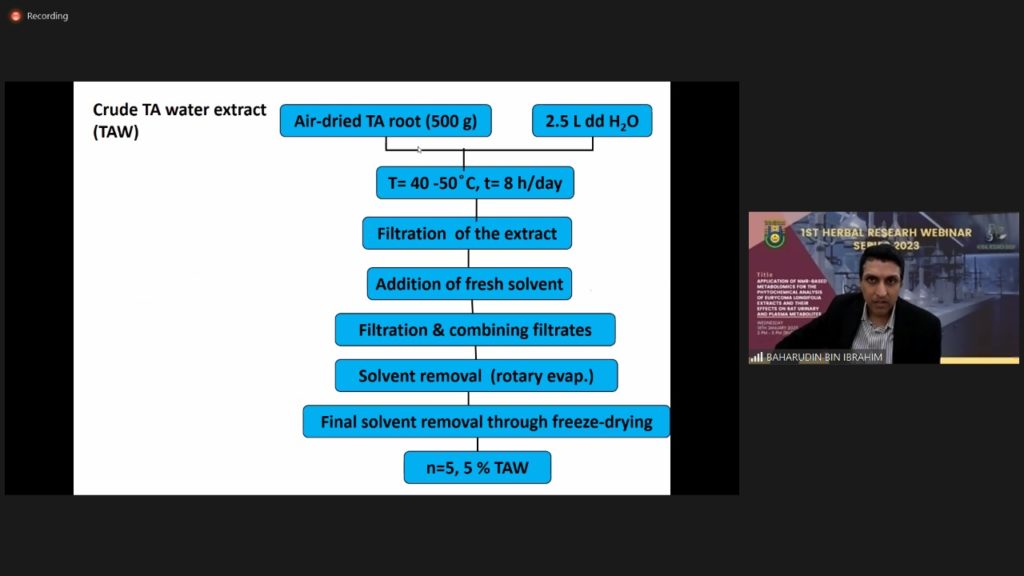 The objective of the study and experimental procedures were briefly shared by Dr. Baharudin, followed by an elaboration on the NMR spectral data obtained for the four major quassinoids from E. longifolia, namely eurycomanone, eurycomanol, 13,21-dihydroeurycomanone and eurycomanol-2-O-β-D-glycopyranoside. He further revealed the presence of all the four active quassinoids in all samples of E. longifolia retrieved from four different Malaysian states i.e. Terengganu, Kedah, Selangor and Perak. Nevertheless, significant differences were noted between the metabolite levels (including that of some quassinoids) present in the plant sampled from the four states of Malaysia. The same was also denoted for aqueous versus methanol extracts of the plant.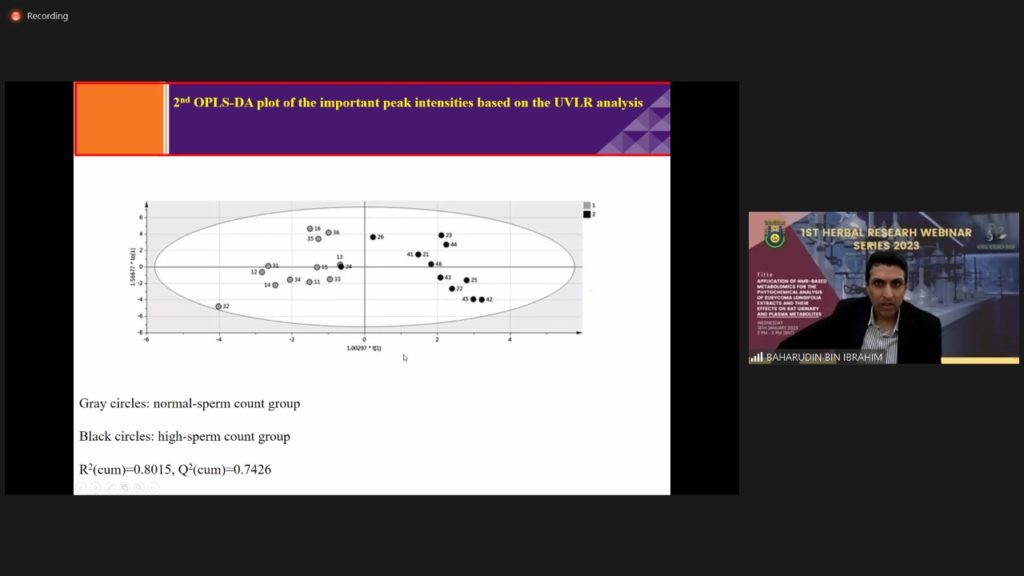 Subsequently, Dr. Baharudin demonstrated the efficacy of the major quassinoids on sperm count in rats treated with different extracts of E. longifolia ­i.e. aqueous extract (TAW), quassinoid-poor (TAQP) and quassinoid-rich extracts (TAQR). The study showed that the sperm count of the treated rats increased with the level of quassinoids in the extracts. Furthermore, it was noted that the sperm morphological defects were also more prominent in TAQP-treated rats.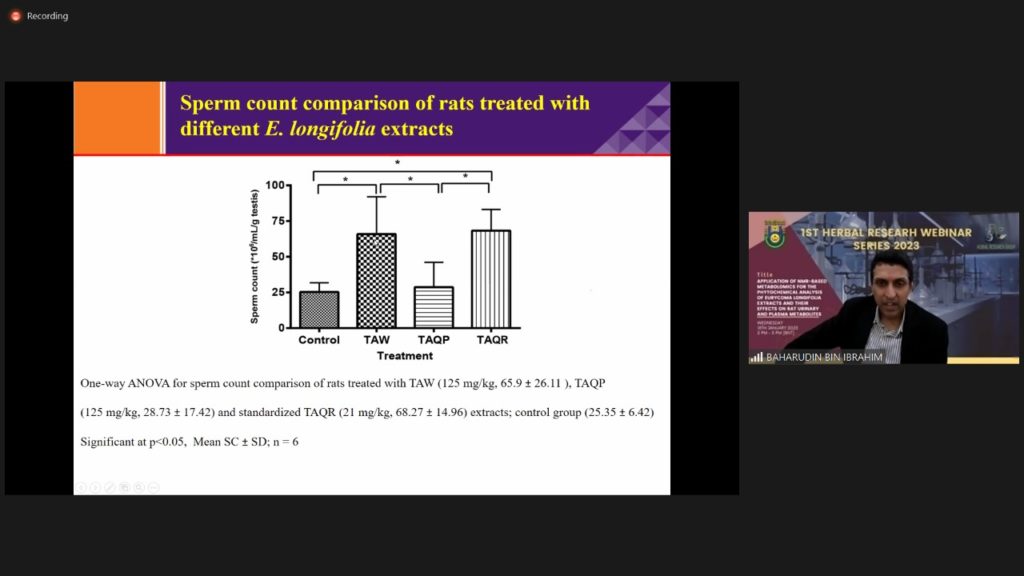 As final objectives to the study, the discriminating metabolites of high and low sperm count in rat urine and plasma were also identified. In particular, concentrations of trigonelline, ethanol, benzoic acid, alanine and an unknown compound in the urine samples were able to differentiate between groups with high versus low sperm counts. As for plasma, the discriminatory metabolites were alanine, lactate, histidine and ethanol.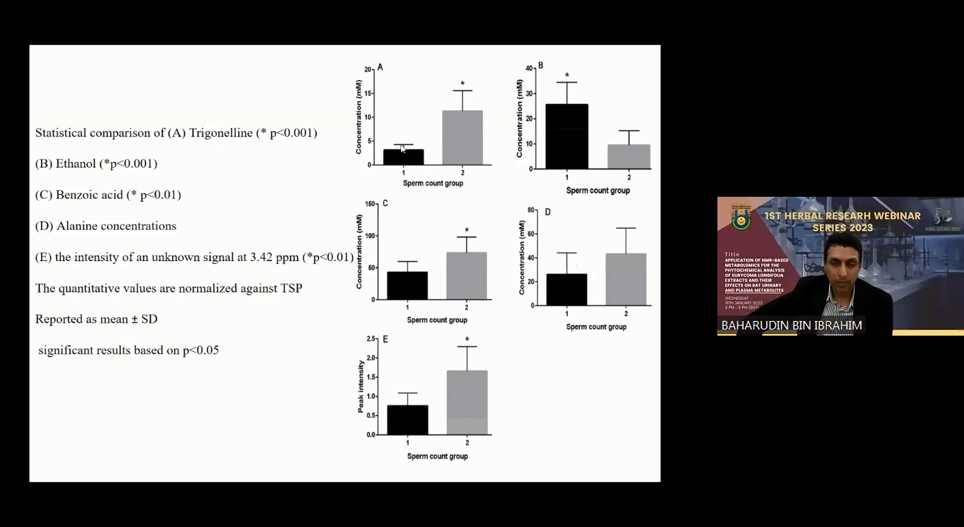 The webinar was concluded with the exchange of questions, ideas and comments between Dr. Baharudin and the audience. A virtual group photo was also taken to commemorate the event.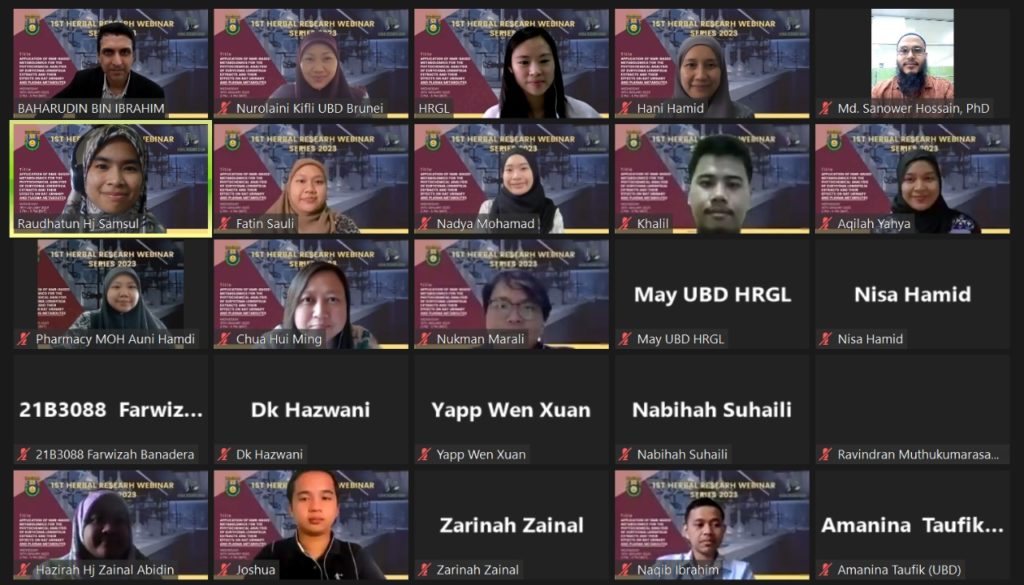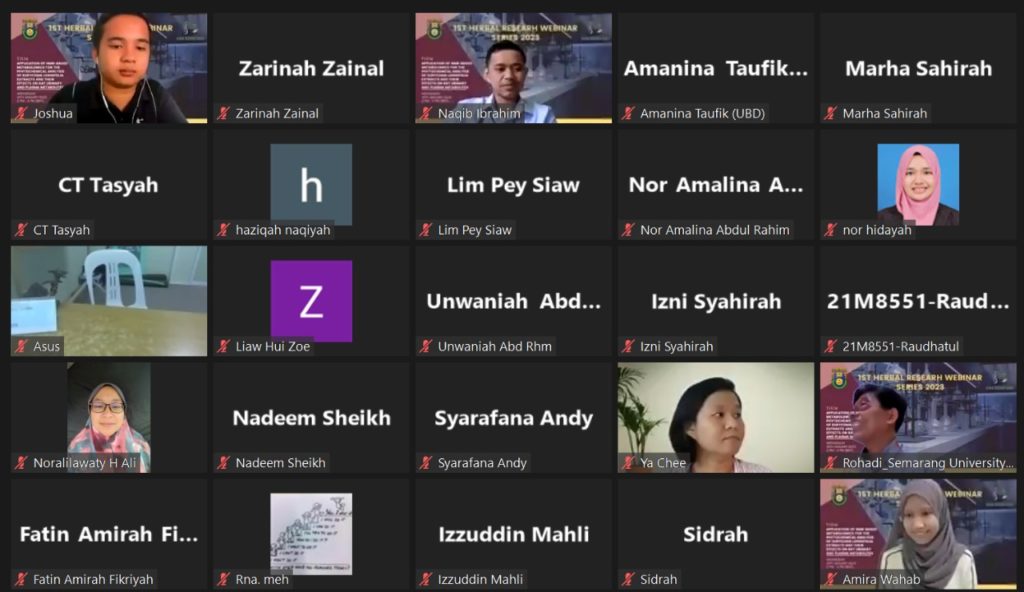 For the video recording of the 1st Herbal Research Webinar Series 2023, please see below: