The 7th Herbal Research Webinar Series 2022 was organised and hosted by Universiti Brunei Darussalam (UBD)'s Herbal Research Group online via Zoom on the 28th September 2022. Associate Professor Dr. Khairana binti Husain, a lecturer (DS54) and chairperson at Centre for Drug and Herbal Development at Faculty of Pharmacy, Universiti Kebangsaan Malaysia was invited as a guest speaker for the webinar where she presented on the topic "Herbal Research Activities in Faculty of Pharmacy, UKM, Malaysia". The event was attended by a total of 40 participants including staff, students, alumni from different faculties and departments of UBD, IBTE, Universiti Sains Malaysia as well as Universiti Kebangsaan Malaysia.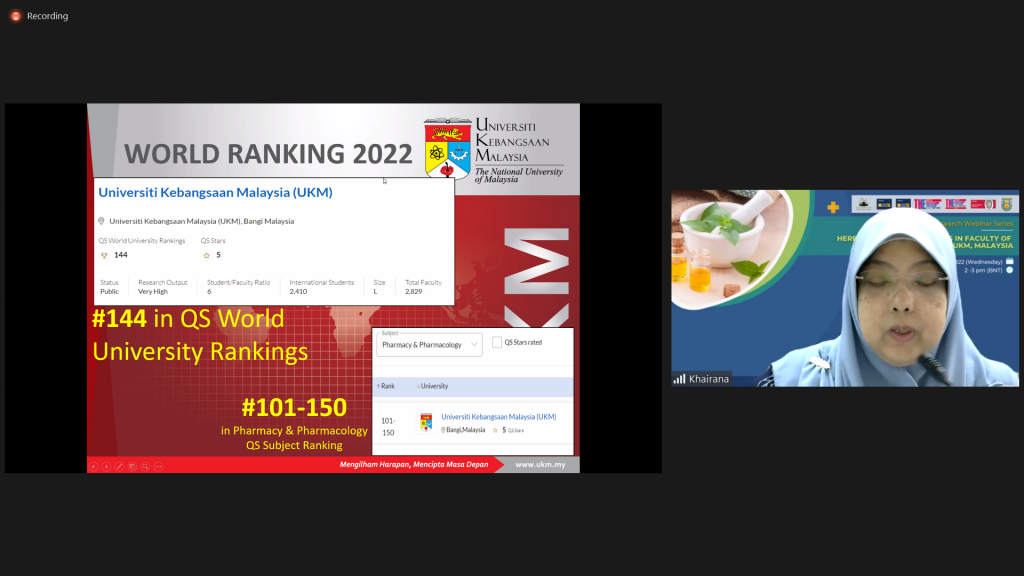 Prof. Khairana began her presentation by sharing UKM's ranking in QS World University Rankings as well as in Pharmacy & Pharmacology QS Subject Ranking. She then proceeded to explain that the Faculty of Pharmacy at UKM is divided into three departments and one of them is the Centre for Drug & Herbal Development (CDHD). She further elaborated that CDHD aims is to conduct high-quality, collaborative and interdisciplinary research in drug discovery and development focusing on 6 key research areas including phytochemistry, drug design and synthesis of novel compounds, bioassays, pharmacognosy, halal pharmaceuticals and herbal analysis. Several services are offered by CDHD including pharmacognosy lab, computer-aided drug design (CADD) and pharmacology and their laboratory is fully equipped with various equipment such as High-Performance Liquid Chromatography (HPLC), Atomic Absorption Spectrometer (AAS) and Cell Culture Suite.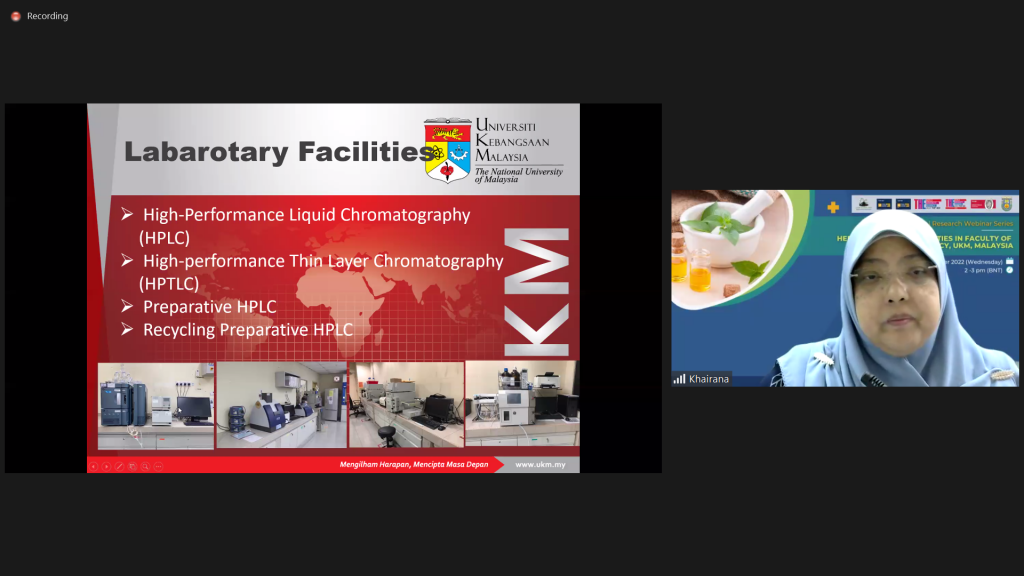 Prof. Khairana introduced in detail each CDHD member and their research projects. Studies of different medicinal plants have been conducted at CDHD including development of standardised formula containing Marantodes pumilum Var. alata for support of menopausal symptoms and osteoporosis, determination of anti-allergic, anti-hypertensive, immunomodulatory and protective effects of Moringa oleifera, Kopsia larutensis and Phyllantus amarus. She then revealed CDHD research publication profile, ASEAN universities partners which comprise of universities in Thailand, Indonesia and Philippines and also their pharmaceutical partners. Prof. Khairana ended her presentation by sharing workshops that they have organised at CDHD.
Following the conclusion of Prof. Khairana's lecture, a question-and-answer session was conducted where she provided response to several curious questions raised by the audience. A group photo session with the invited speaker, organisers and participants was later taken.